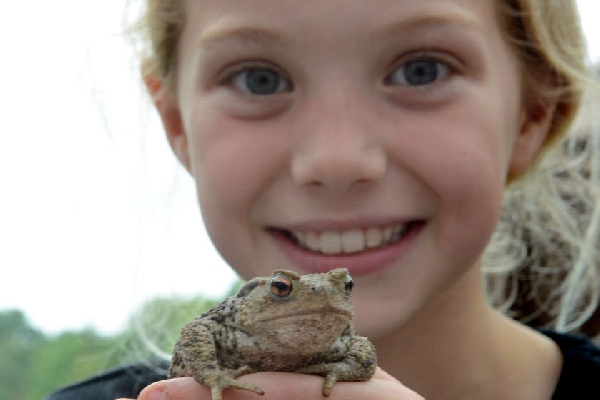 The pupils from over 200 schools have been able to reconnect with nature thanks to the scheme.
School children from across Sussex and Hampshire have been able to enjoy fun nature-based trips after their schools were awarded an Outdoor Learning Grant.
A total of £109,000 of grant funding has been shared between 214 schools over the past two years – one of the highest amounts ever given out since the South Downs National Park was created. This is a five-fold increase from a decade ago.
Children have enjoyed all kinds of activities including hiking at Queen Elizabeth Country Park, a visit to a working South Downs farm, hands-on conservation tasks, a visit to Drusilla's Park, searching for "mini-beasts" at Woods Mill, and stepping back in time at Butser Ancient Farm.
The grant subsidises the cost of a trip and is open to state-funded schools and colleges with 10 per cent or more pupils eligible for Free School Meals. The trips are delivered by the South Downs Learning Network, which cover 100 sites and providers, delivering real-world learning to support the curriculum, as well as health and wellbeing benefits.
The grants are administered and funded by the South Downs National Park Authority, with additional funding from the South Downs National Park Trust, the official charity for the National Park.
(Butser Hill by Daniel Greenwood)
The feedback from schools has been glowing.
Annie Williams, Deputy Headteacher from Glenwood School in Emsworth, Hampshire, said: "We would not have been able to afford to go without the grant and pupils would not have been able to have this wonderful experience.
"The whole school enjoyed our day out to Queen Elizabeth Country Park. They walked up from the car park to the picnic area, went on the assault course, explored the playgrounds, walked through the forest and had a picnic."
Tara Fay, Year 5/6 Teacher and Geography Lead from Coombe Road Primary School in Brighton, said: "Due to the area our children live in, they rarely get the opportunity to be immersed in, and connect with, nature. It is thanks to this funding that our children will always remember the school trip where they used state-of-the-art microscopes to dissect plants."
Hollie Brown, Year 2 Teacher from St Marks School in Brighton, said: "Many of the children described this trip as 'the best day of their life'. Thank you for allowing them to experience such joy!"
Almost 25,000 children and young people have so far benefitted from the school trips over the past decade.
The scheme was formerly called the School Travel Grant before being renamed this year. It's hoped applications for the next round of grants will open in January, subject to further funding.
Amanda Elmes, Learning, Outreach and Volunteer Lead for the National Park, said: "We're so pleased to have been able to help thousands of children connect with the great outdoors and explore the National Park. These experiences are so important for general wellbeing and can inspire a lifelong interest in caring for our planet. As families are hit by the cost of living crisis, many would not be able to afford these school trips, so this scheme is more important than ever. The impact is huge and it wouldn't be possible without generous donations to the South Downs National Park Trust."
Trevor Beattie, Chief Executive of the South Downs National Park Authority, added: "We will continue to work hard towards our goal of every child being able to visit a National Park during their time at primary school. I welcome the introduction of the Natural History GCSE from 2025 and would like to see nature-based field studies incorporated more widely and robustly into the national curriculum.
"With the right resources, National Parks can offer tremendous educational opportunities and we are ready to play a greater role in young people's learning and development."
Find out more about the Outdoor Learning Grant here www.southdowns.gov.uk/learning/grants-for-schools/
This year's funding for the Outdoor Learning Grant has been made possible by the following donors: The Green Family, Shanly Foundation, Fonthill Foundation, Tallulah Lewis Foundation, John Coates CT, Horsham Natural History Society and The American Express Foundation. The American Express Foundation grant is delivered as part of a wider National Parks UK Partnership.
To donate to the Trust visit www.southdownstrust.org.uk