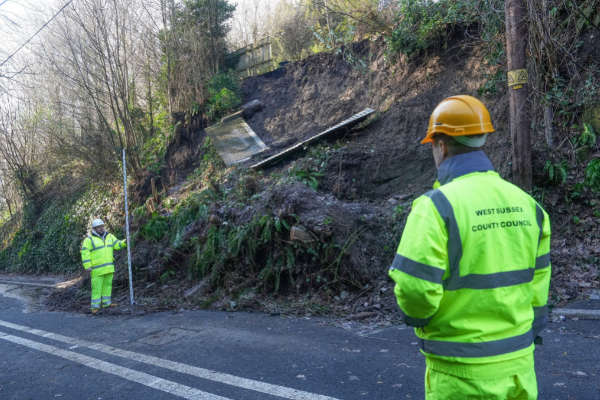 West Sussex highways managers pictured with assessments ongoing at the A29 Pulborough landslide site
Work ongoing for collapsed embankment
Highways teams from West Sussex County Council continue to scope potential solutions to complex issues following the A29 Pulborough landslide, when an embankment collapsed, sending debris onto the road below.
Joy Dennis, the County Council's Cabinet Member for Highways and Transport, said: "We totally understand the frustration of residents, business owners and other road users, facing a lengthy diversion route, and would like to assure them we are making every effort to re-open the road as soon as possible – but that can only be done once it is safe to do so.
"The issues involved are complex and the landslide occurred at the narrowest part of the A29, where both sides are flanked by steep embankments.
"Geo-technical experts have assessed the embankments and advised it is not safe to reopen the road to vehicles and pedestrians – we must adhere to this expert advice as safety has to be our number one priority."
Both embankments have moved and worsened since the original road closure. The western side has seen more material join the pile of debris on the highway and the eastern side, which we have significant concerns with, has shown signs of slippage and material deposited on the carriageway.
Joy added: "Sadly, it is not a simple matter of clearing debris – we have been advised that disturbing material from the embankments could further undermine them and make the situation far worse.
"Trees are at risk of being brought down and there is the added complication of a sewer drain in the embankment, which has been damaged in the landslide.
"The land that has slipped is not owned by the County Council and we are continuing to work closely with the landowners involved, so officers and our specialist contractors can complete their assessments and fully design the solution that will enable the road to be reopened."
Additional inspection assessments are being carried on other local roads, identifying safety issues for repair, acknowledging these roads are regrettably being used as informal diversion routes/cut throughs, despite the signed, official route. Several potholes have already been repaired and more repairs have been scheduled.
Other action taken by highways teams and contractors since the landslide on December 28 includes:
Establishing the road closure and diversion (please see map, below)
Improving diversion route signage, including electronic signs at key locations
Engineers and specialist contractors are scoping potential solutions
Further surveys are being undertaken to assess the damage to the embankments and develop options to resolve the situation.
—----------------------------------------
We have a small favour to ask.
Hundreds of thousands of local listeners across Sussex have placed their trust in V2 Radio's commitment to proper local radio since we started broadcasting in January 2021, tuning in to us to for company, local news, local travel, events and entertainment.
Unlike many others, V2 Radio has no shareholders and no billionaire owner, nor do we receive any licence fees. Just the determination and passion to deliver a quality and impartial service to our communities we serve across Sussex. And we provide all this for free, for everyone to listen to across the airwaves and to read on our website & mobile app. Everyone can benefit from open access to all our content regardless of their ability to pay for it.
Every contribution, however big or small, powers our ability to invest in campaigns like our charity appeals, our unbiased journalism and it also helps to sustain the future of V2 Radio for many years to come.