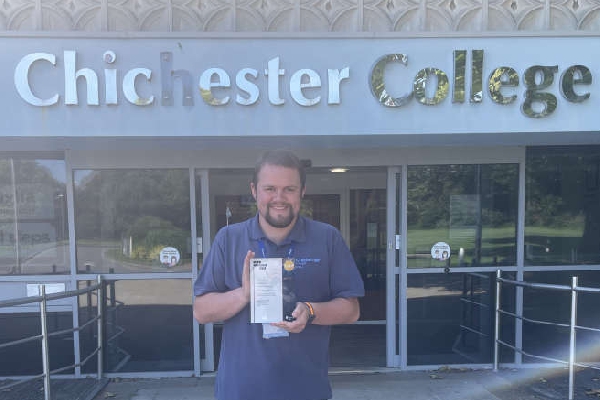 The outstanding achievements of a Chichester College lecturer were celebrated during a special online ceremony earlier this month
Nathan Smith, computing lecturer, has received the prestigious BTEC Award for Tutor of the Year 2021.

His passion and drive have invigorated both his students and his colleagues, with his infectious positivity matched only by his boundless enthusiasm for his subject.

He has consistently seen a superb level of commitment from his students, which can be seen by how much they continue to talk about his classes for weeks after they have happened, affording him near celebrity status at the college!

His students have enjoyed taking part activities such as 'The Tech Apprentice' and 'I'm an IT Student Get Me Out of Here' and even 'The Great British CPU Off' – these coupled with his famously bad photoshop skills bring fun and humour to every session. The ingenuity he brings to his teaching is legendary.
Nathan said: "I can't quite believe that I've managed to win this award and it's come as quite a shock to be honest.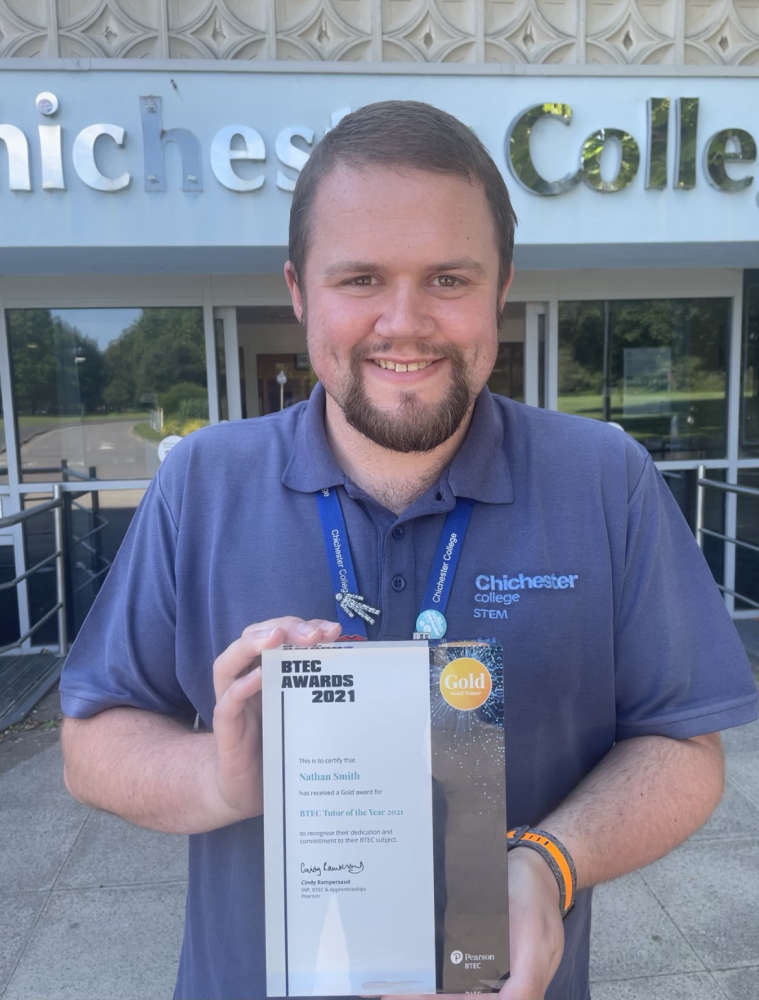 "It's a massive achievement and firstly, I would like to thank the department that I'm in as without their support and encouragement, I wouldn't be where I am today winning this prestigious award.

"Winning Tutor of the Year opens the door for various opportunities for both the college and the wider community.

"However, for myself, it shows that all the effort and time that's been put in over the past three to four years for delivery, taking risks with emerging technologies has been worth it but, it's also providing the experience that the students deserve at FE level, especially considering what's happened within the past year."

Helen Loftus, interim Principal at Chichester College, said: "We are all so proud of Nathan.

"This is a tremendous achievement and one he should rightly treasure.

"Nathan is a hugely popular member of our teaching team – with students and staff alike, and it is only right that he has been recognised in this way.

"We have a fantastic community at Chichester College, and Nathan exemplifies that perfectly. On behalf of everyone at the college, I offer our congratulations."

Outstanding learners, tutors, teachers, colleges and schools saw their achievements recognised in the 11th annual BTEC awards ceremony, held online for the second year running due to coronavirus.

The ceremony was co-hosted by presenter of the United View, YouTube influencer and BTEC alumnus and ambassador, Flex and sports presenter and events host, Gemma Care. 19 category award winners were celebrated from around the UK and internationally in subjects such as Health and Social Care, Performing Arts, Engineering, IT, Business and Sport.

BTEC alumni including Academy Award-winning producer and Head of Film and Animation at ScreenSkills Gareth Ellis-Unwin, entrepreneur and founder of SB.TV Jamal Edwards MBE, and award-winning actress Lucy Fallon were among those also presenting awards.
Cindy Rampersaud, Senior Vice President for BTEC and Apprenticeships at Pearson, said: "2021 has been another extraordinary year for our BTEC learners, tutors, teachers, colleges and schools and I am delighted that today we are able to come together and celebrate this year's winners - and all of the individuals who will be awarded a BTEC qualification this year.

"The hard work and commitment demonstrated by our award winners, all of whom have achieved great things during a time of unprecedented disruption, is extraordinary and I am proud we are able to celebrate their achievements."

Nearly a million learners across the globe completed BTEC courses over the past year; the career-focused qualifications are a vital route for those pursuing careers in sectors such as IT, business, the creative industries, healthcare, engineering, construction and future industries. This is especially important in the current context as the UK responds to the global pandemic and looks to kickstart projects to speed economic recovery.
Jonathan Ledger, Skills Specialist at The Department for International Trade commented: "I must emphasise the importance of BTEC as a career-focused type of qualification and that for me is key.

"This is all about delivering the right skills to the right people at the right time in the right way and BTEC qualifications do just that. For me, BTEC qualifications are a game changer. They change lives and they help people improve and contribute to business and society in a big way.

"A huge congratulations once again to all the winners and all of the nominees."