Red Fox Does What? Surely Not! - This is Christine Chambers' first children's book.
Christine explained to V2:
"The idea of writing as a whole has been a dream for some years now. The idea that a child would read my story, engage in its content and enjoy the experience is very humbling. To be able to inspire the imagination and creativity of a child is magical and I wanted to be able to do that in some small way. This is my first book and I would love to do more. I have lots of ideas as I have been writing snippets of stories for over 20 years now. Also when my son was little i saw how happy stories made him. I wanted to be able to do that for others.
"The idea behind this book was about a few things. I wanted to encourage children not to give up. Even when things don't go to plan. I also wanted to show about friendship and letting others help you. How rewarding it can be to work together. My focus was also for Red Fox to have more than one "best friend ". Everyone is different and you can be friends with many people. I absolutely adore animals in all shapes and forms, so knew the book had to be all animals. Foxes often get bad press so I wanted to show them in a positive light.Once i was focused on the story it took about five months to write, with several revisions and re-writes. I then sent it out to approximately thirty publishers. While waiting for replies I started working on drawings for the story. They took about a month to complete. I then handed everything over to the publisher and waited patiently for it to be put together. February this year the delivery day arrived. I opened the boxes of books and was overwhelmed. I couldn't believe it was a real book, my real book! This is something I've wanted to do for over twenty years and finally it's happened. It's extremely surreal and incredibly exciting.
"The book is aimed at 3-7 year olds but I have found that children in year three (age 8-9) have been very interested and enjoyed the story too. I think it appeals to many ages as we can all relate to the story. The children love the suspenseful story line and can also repeat the rhyme that occurs throughout. The story at the end, gives a warm fuzzy feeling of happiness.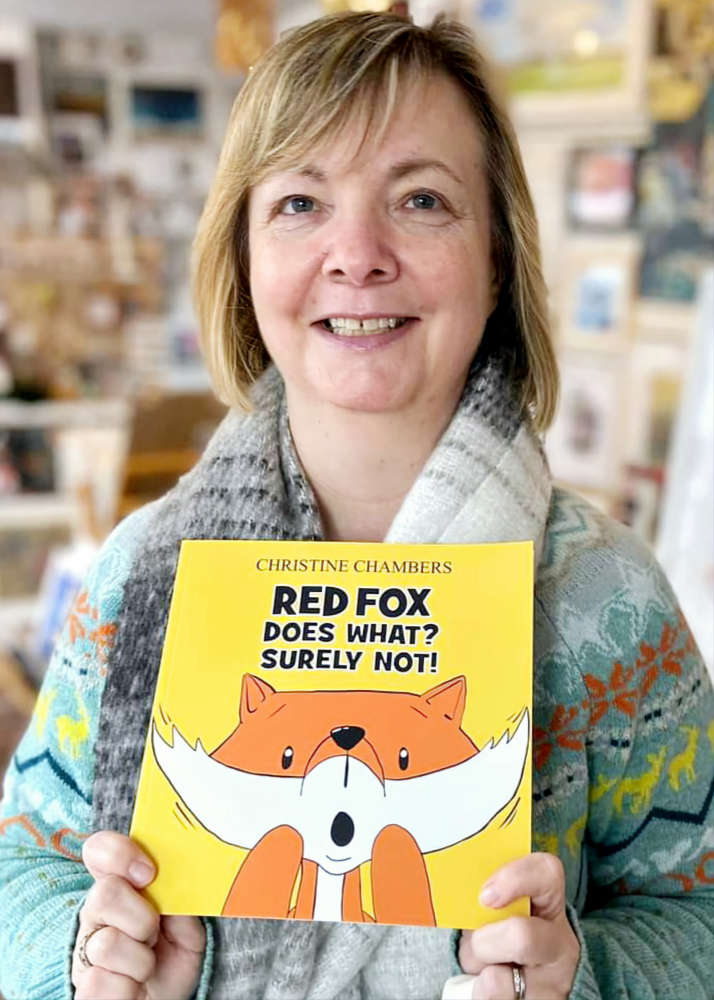 "As well as writing I like to draw and crochet. One evening I just doodled a picture of a fox to make in crochet form. I didn't think anything of it as originally I'd started on another idea for a book. A while later my son was baking a cake. It's something we've enjoyed doing together since he was little but now he's 16 he just gets on with it himself! I suddenly remembered a time when I was at school in cookery class. One of the boys had missed something out of the recipe, flour I think. His cake came out of the oven all slimy and completely un-edible. It was, as they say, a light bulb moment".
Red Fox Does What? Surely Not! is published by Jelly Bean Books part of Candy Jar books
£7.99
Available from Christine at ca.chambers03@gmail.com or from Pier Road Coffee and Art, Littlehampton.
Now on pre order for 23rd November at Waterstones, WHSMITHS, Amazon and other retailers.