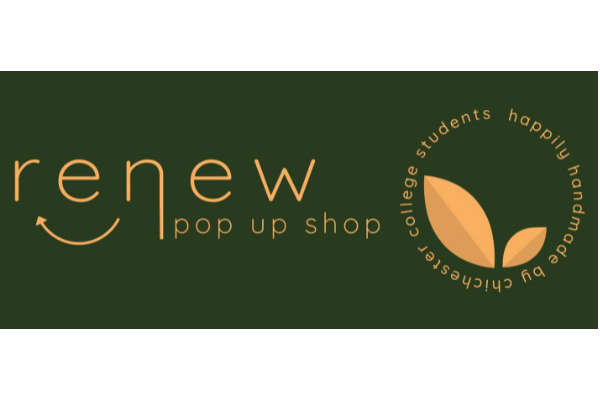 Chichester College launches student-run pop-up shop in city centre
Renew, located in Crane Street (on the corner of Chapel Street), offers a range of hand-crafted products – all made by art & design students at the college.

They've been designed with a happiness theme, aiming to spread a little joy. From framed prints to ceramic homewares, jewellery to tote bags – the shop offers a selection of beautiful items which will make affordable, unique Christmas presents.

Shoppers will be supporting young artists as well as the local community, with 10% of all profit made being donated to the Chichester Food Bank while the rest will be invested back into future student projects.

There will also be a donation point in the shop for the food bank, as well as an Eco Swap Shop – offering the opportunity to exchange unwanted, but wearable, clothes for other donated items of clothing.

Helen Loftus, Principal of Chichester College, said: "This is an amazing opportunity for our students to showcase their talent and their work to the public, as well as gain valuable experience.

"The students have worked incredibly hard, supported fantastically by our remarkable lecturers, to produce a fabulous range of products that will appeal to anyone.

"We hope shoppers in the city will support our students in their work, and benefit by buying loved ones some really lovely Christmas gifts."

Renew will be open Tuesday-Saturday (closed on Sundays & Mondays) until Sunday 18 December. Find out more on the college website: www.chichester.ac.uk/renew

It's been supported by funding from Chichester College's Enterprise Society and Chichester BID, as well as by Chichester District Council – who have leased the space to the college as part of its pop-up shop initiative, which enables local entrepreneurs and small businesses to trade in a high street location without the commitment or cost of a longer-term lease.
—----------------------------------------
We have a small favour to ask.
Hundreds of thousands of local listeners across Sussex have placed their trust in V2 Radio's commitment to proper local radio since we started broadcasting in January 2021, tuning in to us to for company, local news, local travel, events and entertainment.
Unlike many others, V2 Radio has no shareholders and no billionaire owner, nor do we receive any licence fees. Just the determination and passion to deliver a quality and impartial service to our communities we serve across Sussex. And we provide all this for free, for everyone to listen to across the airwaves and to read on our website & mobile app. Everyone can benefit from open access to all our content regardless of their ability to pay for it.
Every contribution, however big or small, powers our ability to invest in campaigns like our charity appeals, our unbiased journalism and it also helps to sustain the future of V2 Radio for many years to come.