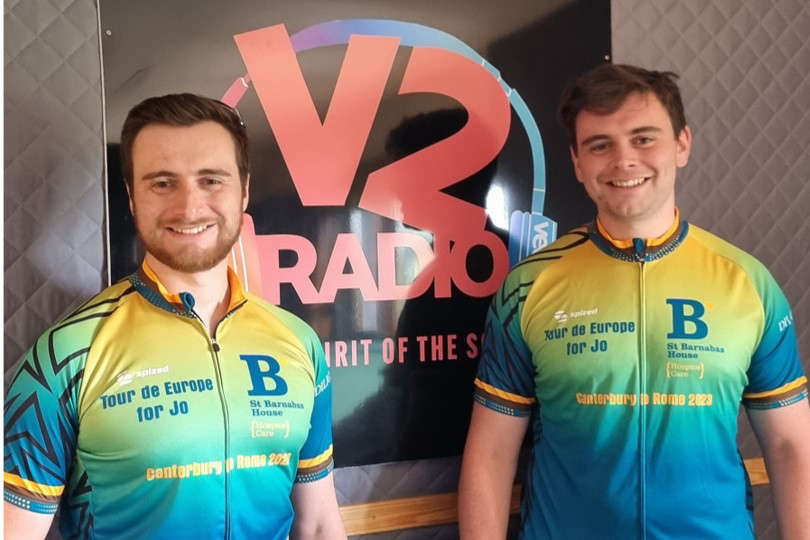 Jack and James have their cycle outfits ready to go
Jack, James and Mark are doing the challenge in memory of Jo, who passed away after a 16 year cancer battle in 2022
A Sussex father-son trio are preparing to take on a 1300 mile charity cycle in support of the charity which looked after their late mum.
Jack, James and Mark Shepherd are beginning the trip from Canterbury to Rome on Friday in hopes to raise £10,000 for Worthing based palliative care provider St Barnabas House. The three - alongside other family members and friends - are hoping to smash 60 miles a day, so they can finish the challenge on what would have been their mum's 59th birthday.
On why they decided to take on such a huge challenge for the charity, the brothers explained that they have a "background of cycling" in their family, even doing 600 miles at the ages of just 11 and 15.
""Previously, we cycled from Bilbao in Spain to Saint-Malo in France.
"It's about 600 miles and we raised money then - about £1000 for Breakthrough Breast Cancer.
"We were quite inspired during that journey when we were younger."
Having completed that cycle alongside their mum, they described the trip as a "spiritual successor to that initial cycle tour." Cycling, they share, is something that helped their mum maintain her "positivity and zest for life" during her 16 year cancer battle.
The pair told V2 Radio how training consists of "loads of cycling whenever we can", even finding a gym while on holiday in Crete. But even that doesn't replicate the amount of time they'll be spending on the saddle.
"You're looking at probably six to seven hours sitting down on the saddle each day, and that's without the pain in the legs before you even get to the Alps.
"We're looking at having an elevation gain about twice the height of Everest, so it's going to be a real, real challenge."
However, Jack and James are confident. When asked about how they plan to deal with any saddle or leg pain during the journey, they simply replied "we'll cross that bridge when we come to it."
They're documenting their journey on Instagram @tour_de_europe_for_jo.
Supporting them in their fundraising is Cuff Miller, who said "St. Barnabas House Hospice holds a special place in the hearts of us at Cuff Miller, with members of the team having experienced the care and support offered by the incredible group of people at St. Barnabas. We're delighted to have been able to support St. Barnabas House and the incredible work that they do throughout the years and proud to continue to do so.
We first heard through Jack's Father-in-Law, Mark, about his epic trip across Europe and were pleased to be able to offer our support in terms of donations and expertise to help Jack and his family towards their goal and an incredible cause".
They've already raised over £8000. You can help them hit their £10,000 target by visiting their JustGiving page here