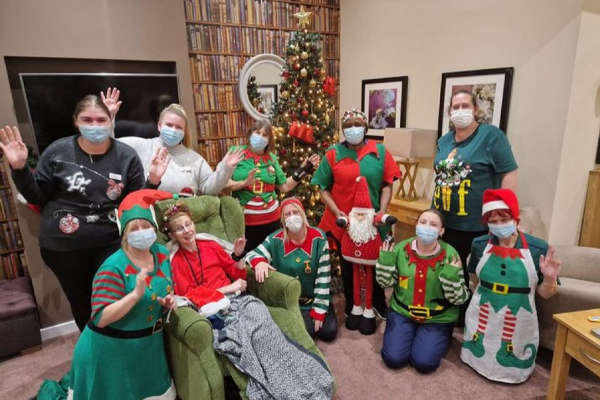 Marriott House and Lodge Care Home in Chichester raise funds to help people living with dementia
Staff swapped their uniforms for costumes on National Elf Day (Friday December 2nd) all for a good cause.
Launched by the Alzheimer's Society and delivered direct from the North Pole, Elf Day was created to sprinkle some festive cheer on fundraising towards finding a cure for dementia. From stripy socks to head-to-toe elf outfits, anything goes – there's snow better way to raise money to help beat dementia.
Nikki Culleton, General Manager at Marriott House and Lodge and head elf, said: "Elf Day at Marriott House and Lodge is always a lot of fun. We know first-hand that many people, including a good number of our residents, are living with some form of Alzheimer's. That's why raising money to support dementia charities is dear to our hearts and we're always so keen to get involved. We're proud that the money we've raised will go towards such a good cause."

Barbara, a resident of the home said: "It is always a very festive day, and the staff always make us laugh in their costumes. What a wonderful way to raise money for charity!"
--------------------------------------
We have a small favour to ask.
Hundreds of thousands of local listeners across Sussex have placed their trust in V2 Radio's commitment to proper local radio since we started broadcasting in January 2021, tuning in to us to for company, local news, local travel, events and entertainment.
Unlike many others, V2 Radio has no shareholders and no billionaire owner, nor do we receive any licence fees. Just the determination and passion to deliver a quality and impartial service to our communities we serve across Sussex. And we provide all this for free, for everyone to listen to across the airwaves and to read on our website & mobile app. Everyone can benefit from open access to all our content regardless of their ability to pay for it.
Every contribution, however big or small, powers our ability to invest in campaigns like our charity appeals, our unbiased journalism and it also helps to sustain the future of V2 Radio for many years to come.