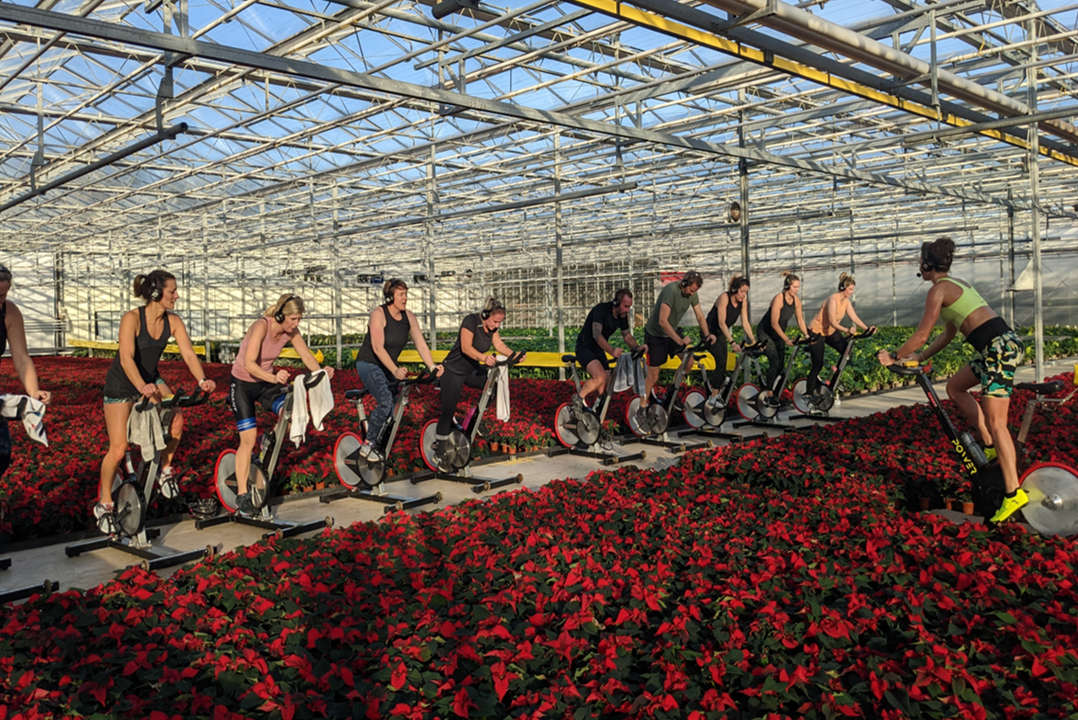 Image credit - POWER Facebook
Bikes and bananas on a red carpet of poinsettias
POWER Fitness Events delivered its first winter pop up ride experience, thanks to Hills Plants, home of The Little Botanical, who generously opened their nursery doors, on Saturday 12th November.
A mix of POWER regulars, Hills employees and new faces to both businesses, of all ages and fitness levels, snapped up tickets to the fully booked POWER in the Poinsettias event.
A near-silent spectacle of twenty people riding bikes and scribbling on bananas, surrounded by a spectacular red carpet of poinsettias, was a sight to behold.
POWER in the Poinsettias was the brainchild of Chichester business owner and Chief Banana Officer, Elaine Hart, and Morag Hill, of Hills Plants. When Morag, a regular at Elaine's POWER on the Beach rides, heard that she was looking for Winter POWER pop up locations, to deliver her unique bike-based, banana-inspired, mind and body fitness experience, Morag suggested riding amongst the Poinsettias at Hills.
Elaine said: "What better way to begin the festive countdown, in my first year out and about 'wild and free' with my spinning bikes, headphones and bananas, than riding on an incredible red carpet of poinsettias at Hills. It's a special POWER memory I'll cherish."
Following the resounding success of Saturday's inaugural POWER in the Poinsettias event, this special collaboration is set to become an annual event in Chichester's festive calendar.
For more Winter POWER pop-ups and weekly rides follow @powerfitnessevents on social media or visit www.powerfitnessevents.com.
—----------------------------------------
We have a small favour to ask.
Hundreds of thousands of local listeners across Sussex have placed their trust in V2 Radio's commitment to proper local radio since we started broadcasting in January 2021, tuning in to us to for company, local news, local travel, events and entertainment.
Unlike many others, V2 Radio has no shareholders and no billionaire owner, nor do we receive any licence fees. Just the determination and passion to deliver a quality and impartial service to our communities we serve across Sussex. And we provide all this for free, for everyone to listen to across the airwaves and to read on our website & mobile app. Everyone can benefit from open access to all our content regardless of their ability to pay for it.
Every contribution, however big or small, powers our ability to invest in campaigns like our charity appeals, our unbiased journalism and it also helps to sustain the future of V2 Radio for many years to come.