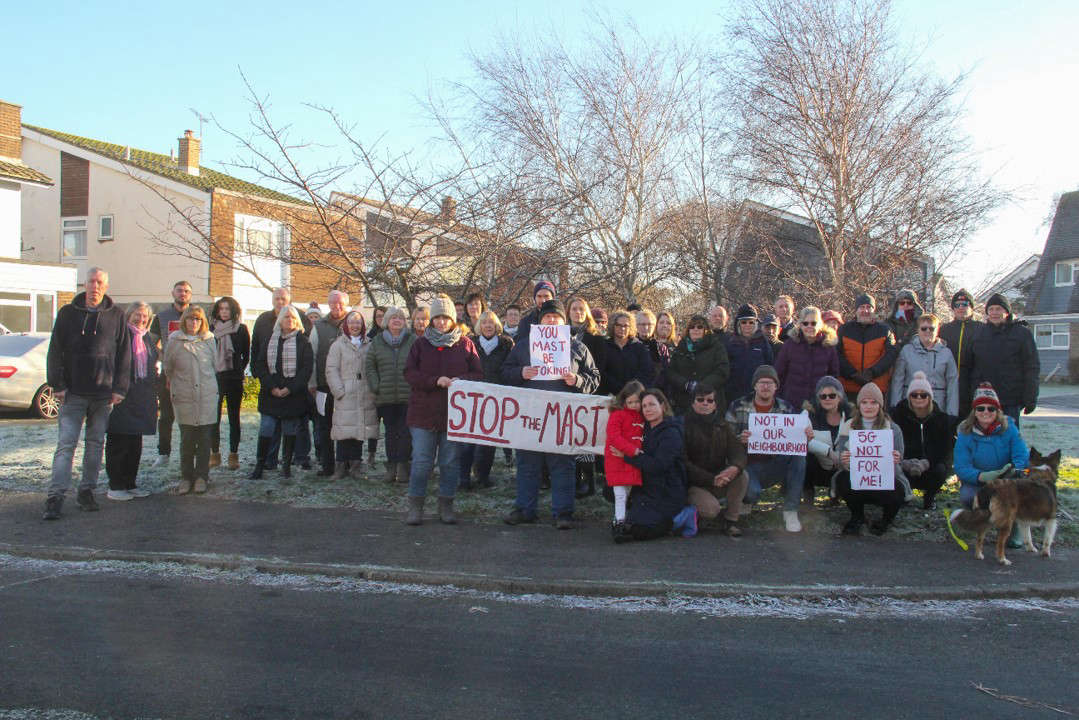 Fifty people gathered to protest the mast on Sunday morning
Felpham Parish Council have already rejected the planning proposal - but mobile network Three say that having high speed connectivity is the "lifeblood of a community"
Residents of a street in Felpham are protesting against plans to build a 15 metre 5G mast on a local green space.
People living on Leverton Avenue have shared concerns that the "quiet" and "peaceful" estate will be "spoiled" by the mast which they say is "twice the height of the homes that will only be feet away from it". In a petition with over 100 signatures, they write that it'll "spoil the landscape and skyline", "Impact house prices" and "cause noise pollution."
Steve Pullen, who has lived on the street with his family for over 20 years, is leading the campaign: "The original planning application for the build 60 years ago included rules and covenants protecting the look and feel of the estate.
"For example it is not permitted for a homeowner to put up any borders, hedges or fencing in front of any of the homes.
"As a result, the original vision of the estate, with its open plan frontages and overall tranquil appearance has been preserved."
"So imagine my horror when I return home a week or so ago only to find that yellow notices have been attached to the street lights.
"These revealed that a 50 foot 5G telephone mast....has been proposed to be erected on one of the precious few and, up until now, protected shared green space on the estate."
Proposals submitted to Arun District Council outline that building the pole is vital for "high-speed mobile connectivity" - which Three, who are leading the development, say is the "lifeblood of a community" in "these unprecedented times of the Covid-19 pandemic."
But Steve Pullen says he 'remains sceptical': "The masts only have a range of 250m – which is why they are swarming across the country in the way that they are.
"This means a mast or at least a booster every 500m – I cannot envisage a whole motorway network with a mast every 500m – if they did then they would outnumber the emergency phone boxes!"
Planners shared in their application that the design "will assimilate well into the immediate street scene and not be detrimental."
They explained: "The proposed site option is considered the best available compromise between extending 5G service across the target 'coverage hole', with the selected street works pole height and associated antenna and ground-based cabinets restricted to the minimum height."
But Felpham Parish Council have already objected to the application. "We understand that a mast may be required but the location is far too obstructive to a significant number of people."
Objections shared on the council's planning portal also outline worries about the effects of 5g on people's health. But on initial assessment, Environmental Health has added that they have "no objection in principle", although the mast must be built within working hours and not be so loud it has an "adverse effect" on "residential or commercial properties."
However, Pullen worries "that every mast that is approved is a green light for the next one."
"If we do not press for more sensible and less invasive sites, then we are all in for a very ugly landscape."
—----------------------------------------
We have a small favour to ask.
Hundreds of thousands of local listeners across Sussex have placed their trust in V2 Radio's commitment to proper local radio since we started broadcasting in January 2021, tuning in to us to for company, local news, local travel, events and entertainment.
Unlike many others, V2 Radio has no shareholders and no billionaire owner, nor do we receive any licence fees. Just the determination and passion to deliver a quality and impartial service to our communities we serve across Sussex. And we provide all this for free, for everyone to listen to across the airwaves and to read on our website & mobile app. Everyone can benefit from open access to all our content regardless of their ability to pay for it.
Every contribution, however big or small, powers our ability to invest in campaigns like our charity appeals, our unbiased journalism and it also helps to sustain the future of V2 Radio for many years to come.