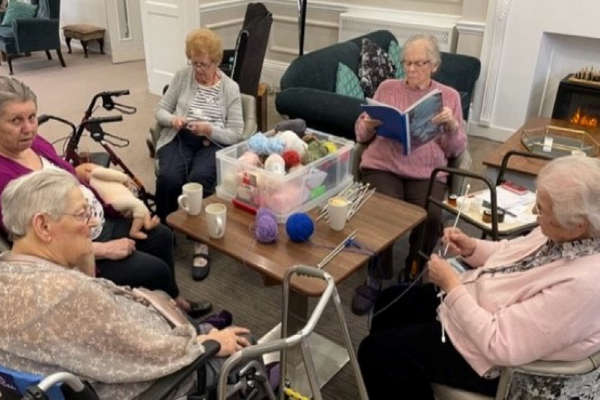 Encouraging the community to get together and socialise.
Westergate House care home, in Fontwell, have been busy within the local community setting up a free knit and natter workshop at the home.
Taking place every Thursday afternoon in the house lounge, residents and guests have the chance to have some fun knitting their own patchwork blanket, and to meet people from the local community. Lifestyles Lead at the home, Lee Austin, has explained the benefits of a knitting group; a forum that provides a relaxing, creative and enjoyable experience for everyone involved. Added benefits include a reduction in feelings of stress and anxiety, and even the alleviation of physical symptoms such as high blood pressure and a fast heart rate. With all the benefits to mind and soul, Lee felt that the group would be the perfect activity to share with the local community. Head chef Chris and his hospitality team are on board, and take pleasure in serving a range of coffee, tea, pastries and cakes for everyone to enjoy.
Paul Middleton-Russell at Westergate House, said: "We started this project for our residents, and elderly people in the community, who might want some time outside of the home and to make some new friends. We know a cup of tea and a friendly ear can go a long way."
—----------------------------------------
We have a small favour to ask.
Hundreds of thousands of local listeners across Sussex have placed their trust in V2 Radio's commitment to proper local radio since we started broadcasting in January 2021, tuning in to us to for company, local news, local travel, events and entertainment.
Unlike many others, V2 Radio has no shareholders and no billionaire owner, nor do we receive any licence fees. Just the determination and passion to deliver a quality and impartial service to our communities we serve across Sussex. And we provide all this for free, for everyone to listen to across the airwaves and to read on our website & mobile app. Everyone can benefit from open access to all our content regardless of their ability to pay for it.
Every contribution, however big or small, powers our ability to invest in campaigns like our charity appeals, our unbiased journalism and it also helps to sustain the future of V2 Radio for many years to come.